Price -
$49.99
Sale price
$39.99
Unit price
per
Sale
Sold out
Third-Party Lab Tested For Purity & Potency
Formulated By Registered Dietitians
Supported by Clinical Research
6 Mushrooms, Superfoods & Micronutrients
RESCUE mushroom tincture combines an organic proprietary blend of six medicinal mushrooms, synergistic superfoods and micronutrients. The ingredients are supported by science to enhance immunity,. . .
Read More >
Subscription details
●Save 15% + Free U.S. Shipping
●Subscriber Bonuses & Gifts
●Add or Skip Products as Needed
●Cancel Anytime
●Satisfaction Guarantee
View full details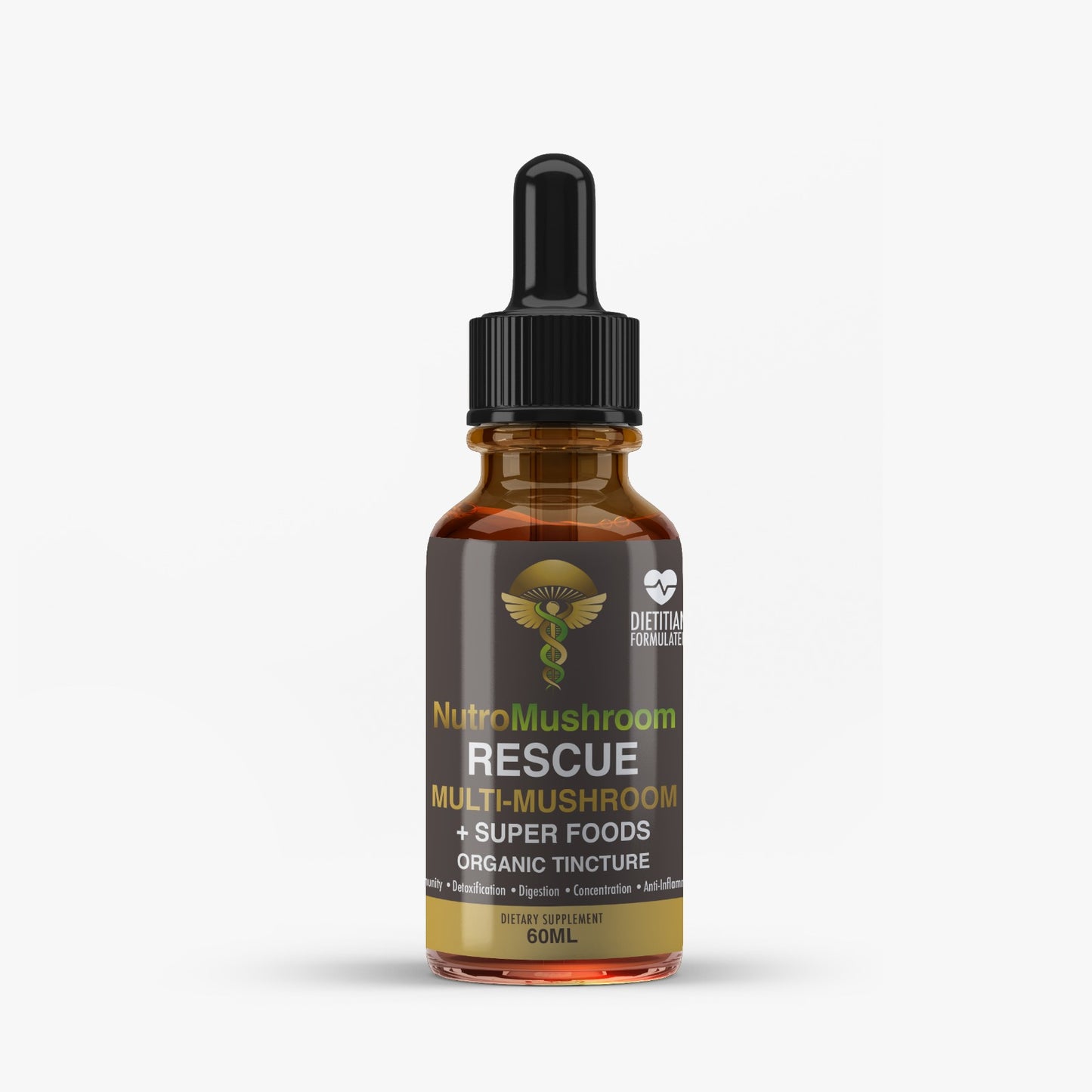 Why Use RESCUE Mushroom Tincture?

We are constantly exposed to external risk factors, including smoke, unhealthy food, alcohol, large crowds, other people, vapor, toxins, pathogens, pollutants, psychological stressors, and more. Sometimes we require an instant health boost and don't have time to wait for our body's typical digestion process. Fortunately, RESCUE Tincture is here to save the day when you need it most. Our proprietary blend is infused with some of the most effective antioxidants, functional mushrooms and superfoods and extracted to work FAST. If you find yourself (intentionally or unintentionally) in an unhealthy situation, put 2ml under your tongue and hold for 20 to 60 seconds for immediate effects.
Extraction Process

NutroMushroom tinctures are made using a dual-extraction process. This captures the maximum amount of benefits from our potent (30% or more beta glucans) fruiting body mushrooms. The solution has complete saturation and is thick with vital compounds
Citations

Every ingredient and claim is backed by scientific research: NutroMushroom Rescue Tincture Supporting Studies
Disclaimer

These statements have not been evaluated by the Food and Drug Administration. This product is not intended to diagnose, treat, cure, or prevent any disease. Keep out of reach of children. Consult a physician if you are pregnant or nursing; have or had a medical condition, or are taking prescription drugs. If you have any adverse effects to the product, stop taking the product immediately and consult your physician.